Online Training + Coaching
Live Online Training and Coaching
Vivo Team provides live, instructor-led online training sessions for participants that are dynamic, effective, and engaging. Focusing on the six key indicators and leadership skills, sessions are one hour, held at regular intervals, and participants make commitments to change behaviors. Sessions also include practice, to reinforce key ideas and learnings to help them consolidate the skills in each session and apply on the job.
This spaced-learning model is proven to increase retention rates and learner success—it helps the learning stick. All content sessions are recorded in case participants are unable to attend or if they want to review the session at a later date.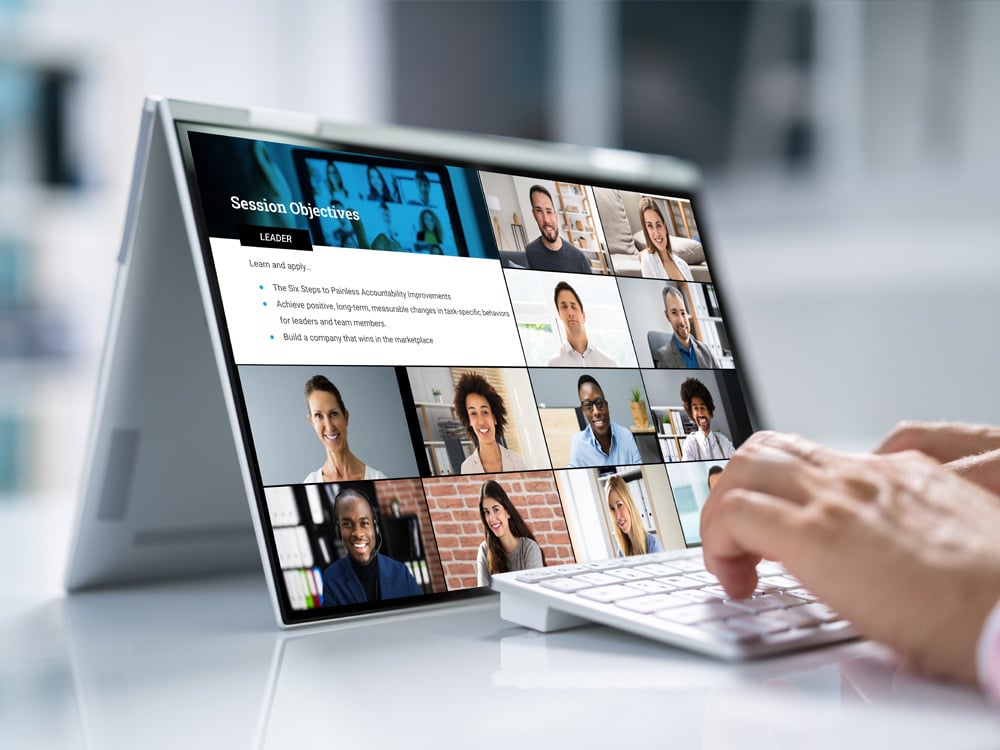 Benefits of Live Online Training and Coaching
Anywhere, anytime learning with a human element, geographically agnostic.
Enhances recall value and on-the-job application with spaced learning: learn, practice apply, and receive feedback.
Facilitates blended learning.
Sessions are recorded and available to review at a later date.
Saves time: no travel out of the office.
Delivered in the flow of the workday in bite-sized pieces.
Saves money: renting space, providing food, and travel expenses.
Spaced learning is a series of short, intense training sessions punctuated by intervals of no learning, which allows participants to implement the training tools right away. Content is learned faster and retention rates are higher plus the shorter sessions fit seamlessly into the flow of the workday.
Group Coaching
Tailored for leadership and team development.
Vivo Team integrates performance coaching into all programs. Coaching sessions are informed by VSR results and focus on the six key indicators of high performance (communication, interactive feedback, structures, accountability, emotional intelligence, and cohesion) and leadership situations.
Outcomes
ACCELERATE your ability to confidently contribute as a leader or team member, influence others, and bring results.
Raise ACCOUNTABILITY and performance.
Develop tactical performers into STRATEGIC leaders and team members.
Develop practical skills and strategies to BUILD highly productive teams.
Offering
1-to-2 Coaching: 60-minute sessions with two leaders coached together
1-to-4 Group Coaching: 60-minute sessions with a group coaching together
1-to-1 Coaching: Personalized 60-minute sessions
"I really look forward to the 1-to-2 coaching. My partner and his team work closely with my group, so we know each other and our people well. We get to focus on us and how to manage any difficult situation/conversations. This has also helped both of us develop a stronger professional working relationship and we quite often will talk about situations and how to handle things. We use each other as sounding boards, something we didn't do a great deal of before this coaching. Jennifer is great to talk too and has fantastic advice and insight that we both use."
Michelle Stuart Accounting Manager
Benefits of Group Coaching
Deliberate practice: Participants practice skills and receive feedback.
Peer-to-peer learning: Participants watch a peer to improve their techniques and skills.
Self-reflection: The opportunity to reflect on their own behaviors allows leaders to catch nuances that might not be captured through 1-to-1 coaching.