People Analytics
For Learning & Development
Vital Statistics Report (VSR)
Companies and leaders have relied on Vivo Team's VSR data to inform their development needs and decision-making for over 10 years. The data collected pinpoints specific strengths, weaknesses, leader effectiveness, and additional factors that contribute to your team's effectiveness and cost of lost productivity.
Unlike typical profile assessments that look at individual tendencies, the VSR looks at behavioral factors and illustrates the viewpoint of the leader and their team members regarding the effectiveness of the team and the alignment/connection between the leader and their team.
Vivo Team's VSR can measure the improvements in performance in individuals, teams, business units, and the organization.
"The VSR provides leaders the insights they need to manage and lead their teams effectively—understanding which areas are strong or weak in relation to competence, motivation, collaboration, and alignment. They also gain perspective on the measured impact of their own leader behaviors."

- Renée Safrata, Founder and CEO
How It Works
Leaders and their team members respond to a series of statements related to the six key indicators of high performance: Communication, Interactive Feedback, Structures, Accountability, Emotional Intelligence, and Cohesion.
The full assessment takes approximately 15 minutes to complete and the responses are calculated and analyzed to create your custom report.
Based on the insights gleaned from your VSR data, and in consultation with you, your leaders and/or teams are placed in targeted programs specific to your unique situation.
Report Features
Team Effectiveness
Your team effectiveness score is derived from the results of the leader's and team members' responses to the statements in these key indicators, giving you a picture of the efficiency and productivity of your team.
Cost of Lost Productivity
The VSR illustrates the cost of lost productivity on a team. The cost of lost productivity uses a proprietary algorithm to pinpoint specific strengths, weaknesses, leader effectiveness, and other factors that contribute to inefficiencies.
6 Key Indicators Summary and Detail
The VSR provides a summary of how your team scored on the six key indicators as well as a breakdown of each indicator over time, providing invaluable information about where improvements need to be made.
Leader Effectiveness
This feature of the VSR is a measure of the difference between how a leader perceives their behaviors and how the team members perceive the leaders' behaviors. The ability of a leader to influence and be effective with their team is directly related to whether the team members perceive the leader's behaviors to be helpful or not helpful.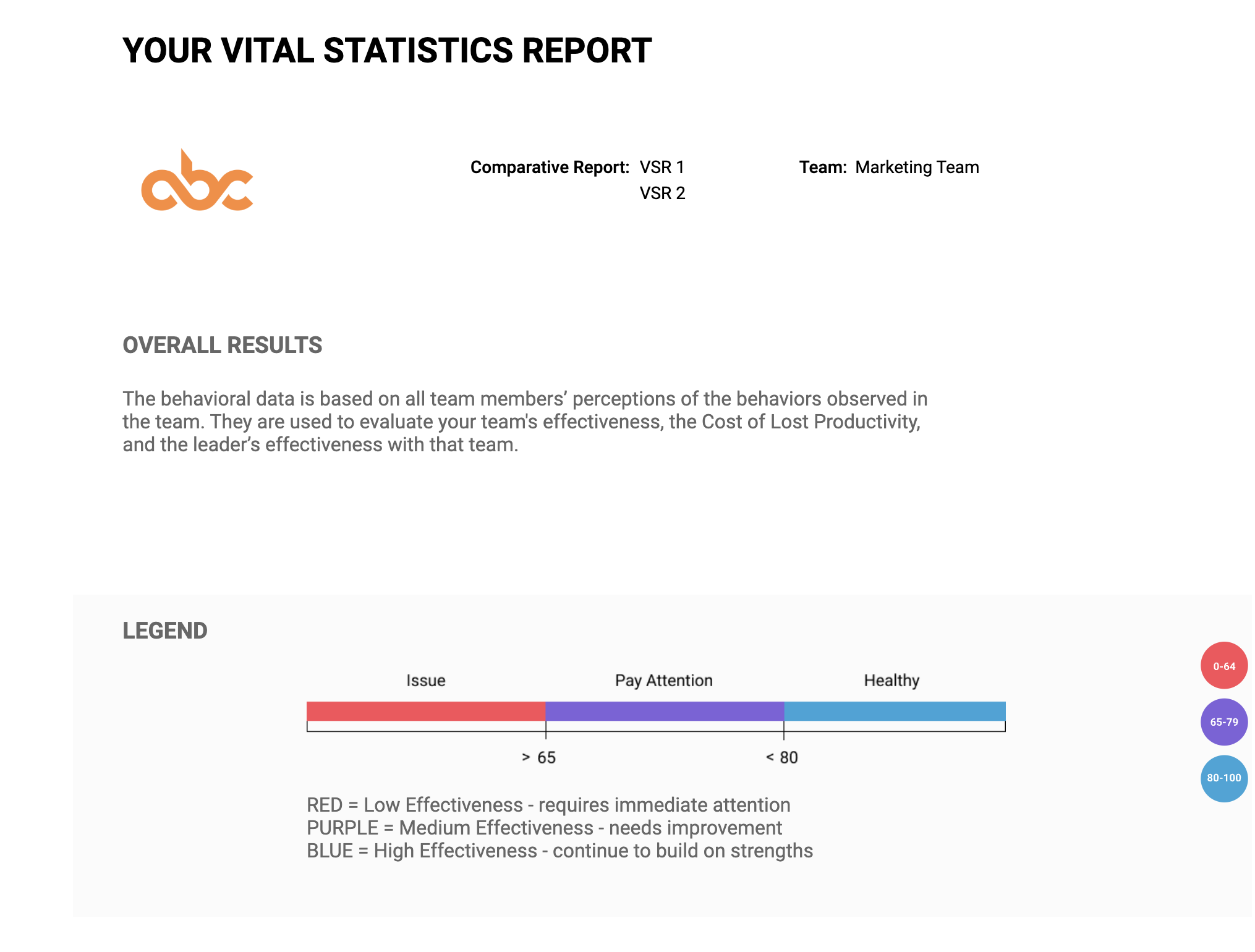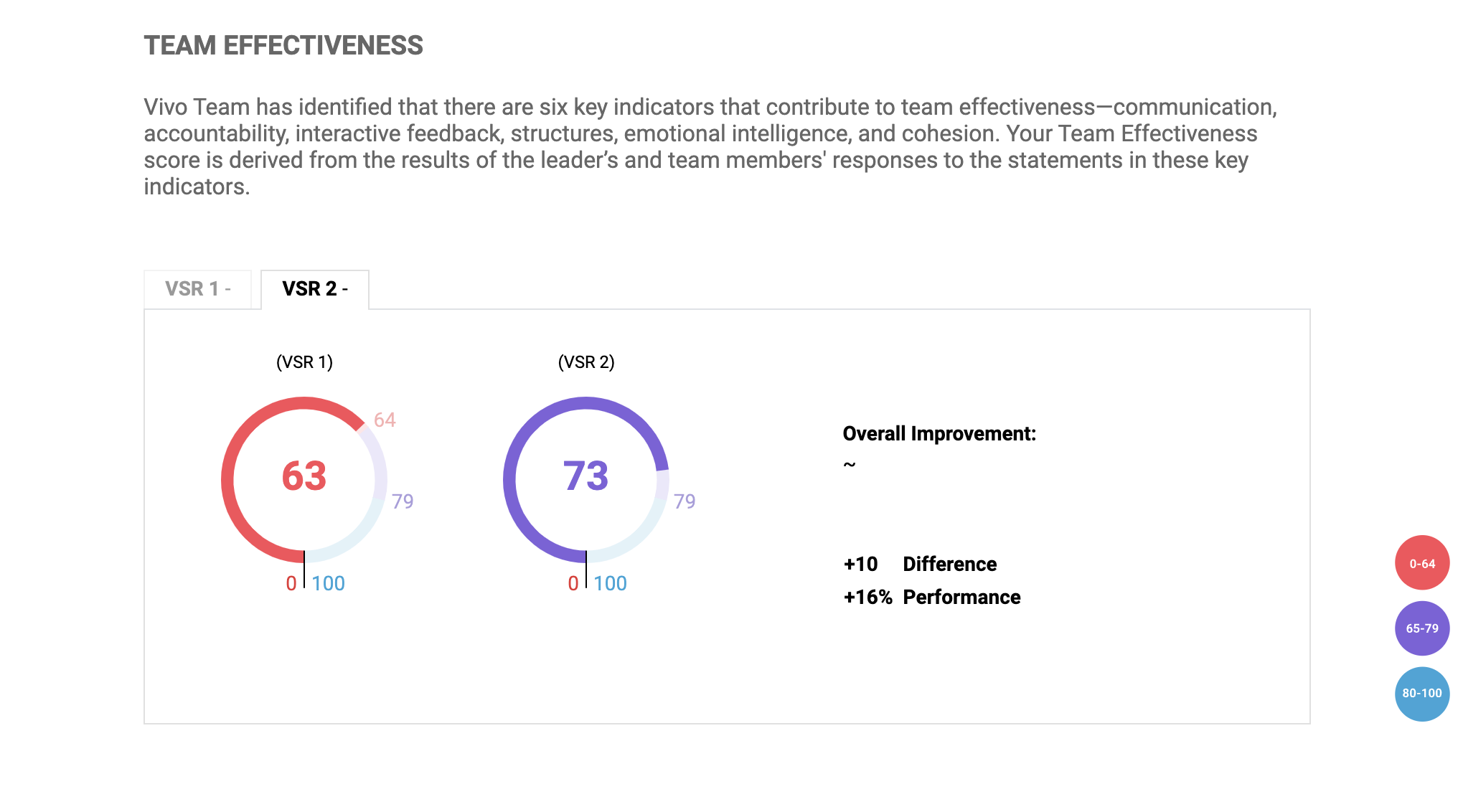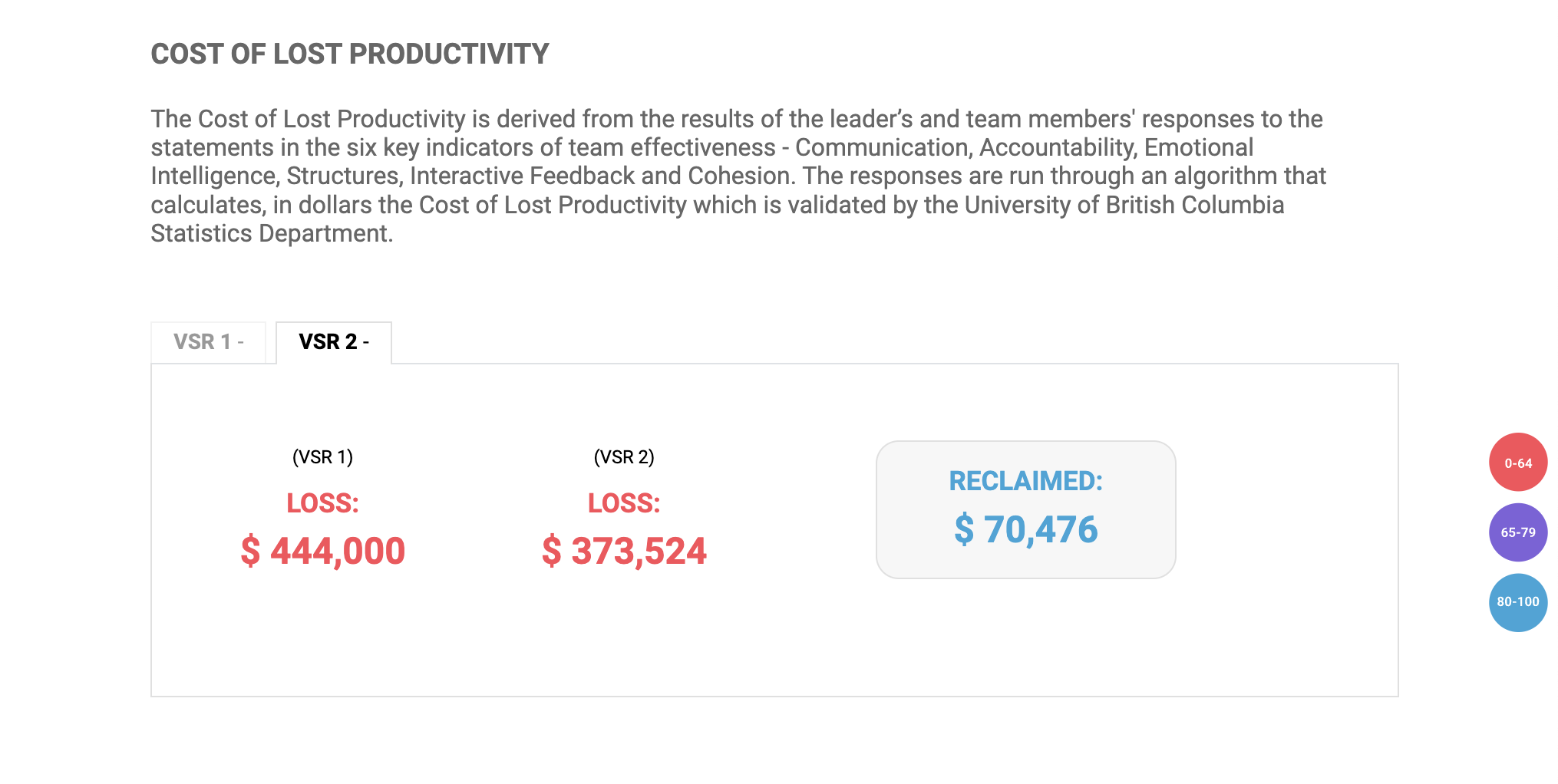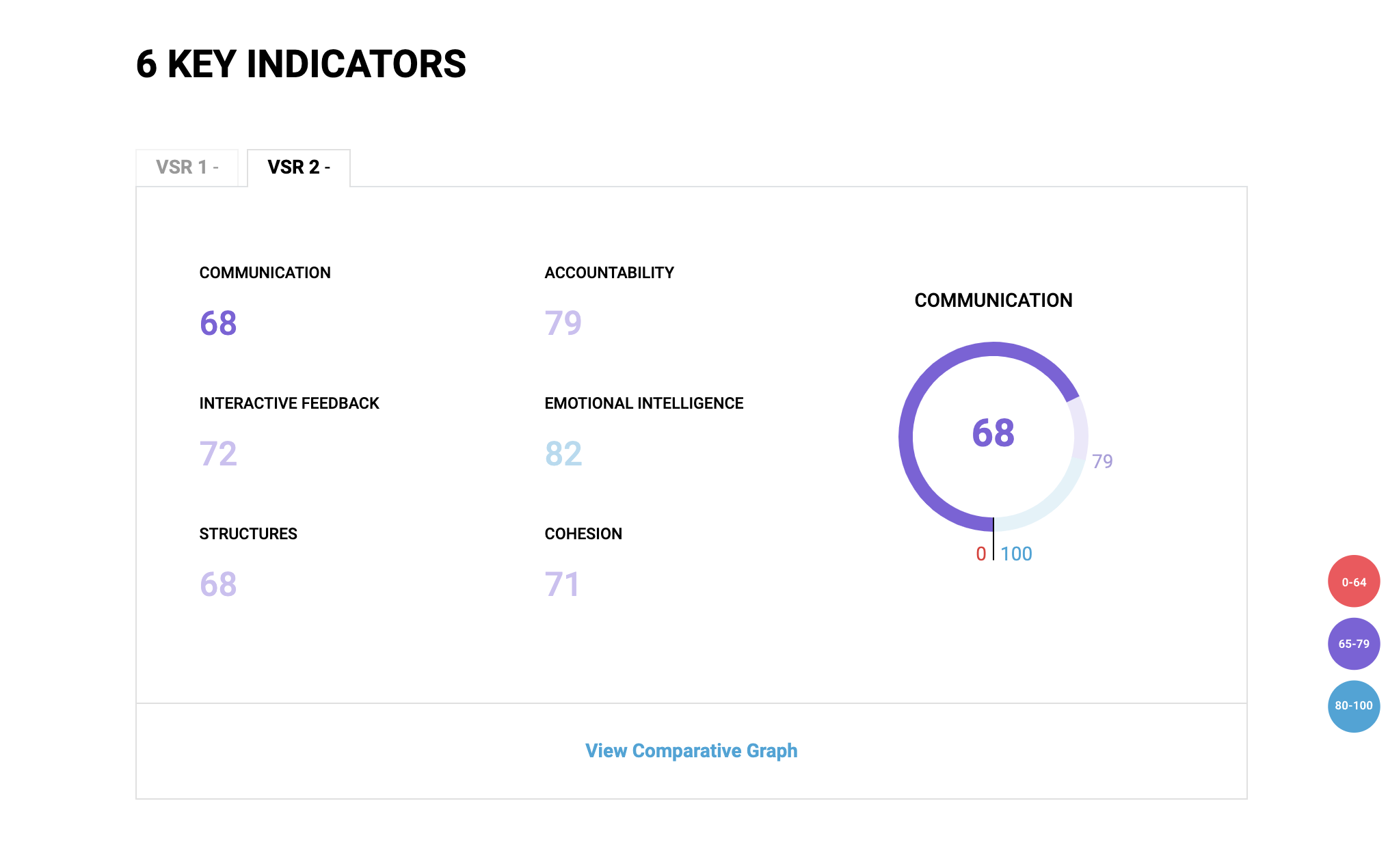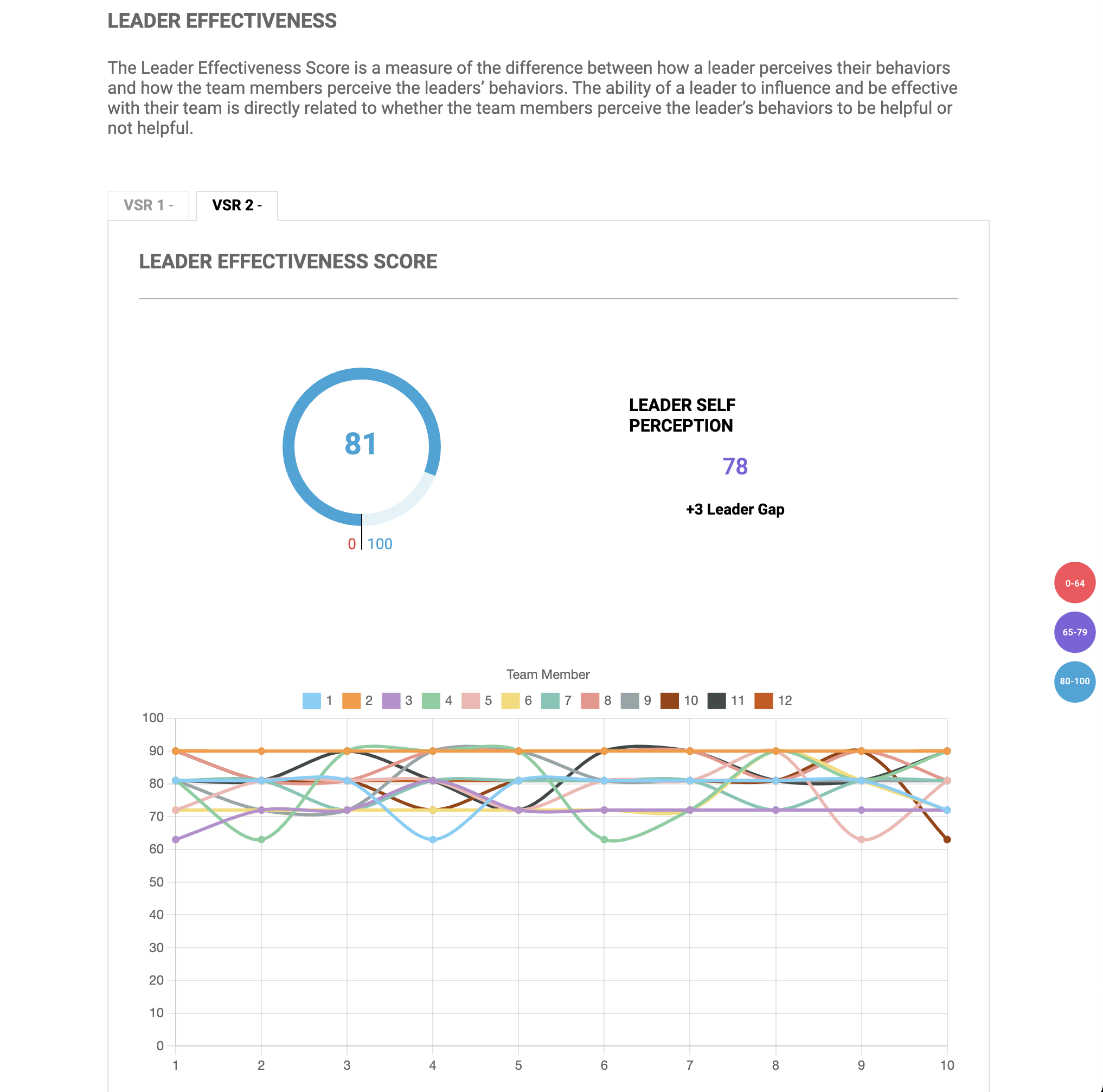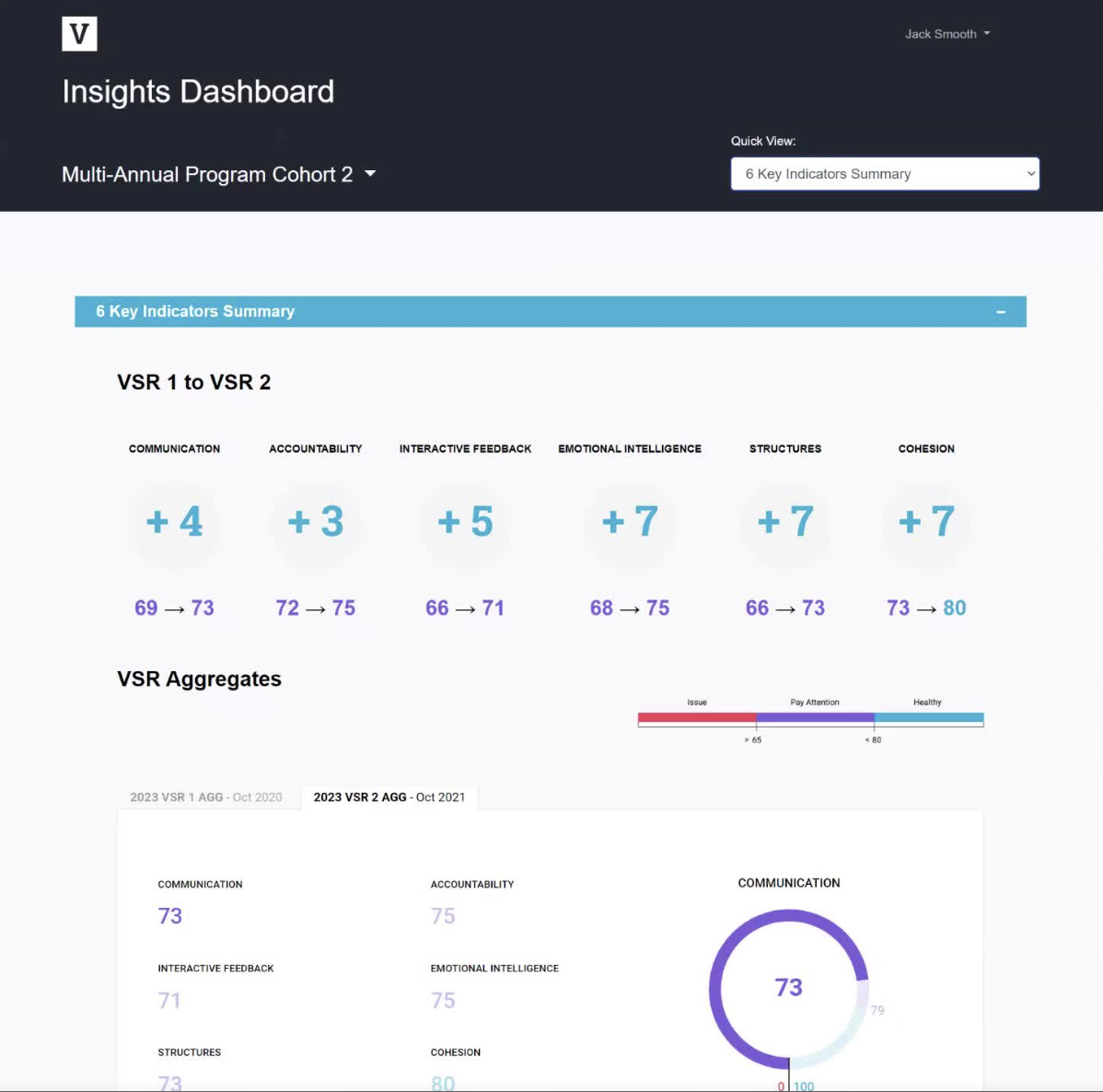 Customer Experience

Vivo Team's Manager of Client Experience and Product Delivery collaborates directly with clients throughout the program to review the data and ensure outcomes and expectations are upheld, via:
Insight Updates - post session summary emails
Insight Huddle - midpoint feedback session and review of progress
Insight Analysis - review of data (participant progress, challenges, feedback, attendance, learning experience platform statistics,
and measurable results of the training)
Insight Dashboard -

anytime access to a custom dashboard where you can get real time updates on the progress of the program
"I must tell you how blown away I was with the VSR process – what an incredible piece of insight for any leader that is truly interested in making things better. I wish I would have had that insight some time ago!"
Keith Lancastle Chief Executive Officer