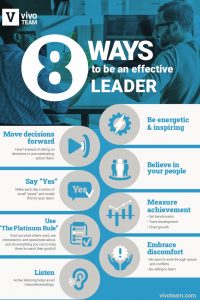 Leaders are great, but great leaders are better! So how do you go from being a good leader to being a great leader? As an emergent leader, or one who wants to level-up, what does this look like?
Check out the list of 8 things great leaders do that we've compiled from some of our great leaders!
1. Great leaders move decisions forward instead of sitting on them or procrastinating. This is something our CEO & Founder, Renée Safrata, models every day.
2. Make each day a series of small "yeses" and model this for your team. It's a fundamental shift in approach and mindset. Encourage your team to bring forward solutions rather than bringing forward problems and expecting you (the leader) to solve them.
Emergent leaders: this is an easy and effective way to level-up your leadership! Say "yes" and commit to giving this a try. Remember, as the first point identifies, great leaders action items; so start by actioning this one!
3. Great leaders use "The Platinum Rule" when interacting with people. The platinum rule involves finding out what others want, are interested in, and passionate about, and then doing everything you can to help them to reach their goal(s). Our VP of Talent Activation and People Analytics, Dr. Jim Sellner, practices this rule.
David Yudis, a Vivo Team Executive Coach, shares a similar mindset: engage with The Platinum Rule, consider how others need to receive communication and adapt your messaging accordingly.
This element of personalization demonstrates your awareness as a leader, and shows your willingness to work to best support your team.
4. Great leadership isn't just about you, and what you do. Our Executive Coach, Petra Mayer's favorite thing great leaders do is listen and encourage great listening skills on their team.
Active listening helps to avoid misunderstandings and mistakes while demonstrating an interest in what is important to others–the foundation of empathy. This is critical for emerging leaders. Empathy is the ability and willingness to seek to understand others and is also a key ingredient in emotional intelligence.
5. Great leaders are energetic and inspiring, shares Greg Basham. They are excellent storytellers with engaging visions. This skill doesn't happen overnight; practice makes perfect. As an emerging leader, this is a great place to start—test the waters, practice, refine, and learn from your mistakes.
6. Great leaders believe in their people. Believing is the first step, but the level up is demonstrating this belief. Consider the ways in which you can demonstrate your belief in your team.
7. Great leaders benchmark the achievement of their aspirations with data gathered from their teams. Data, analytics, and measurement is necessary to chart growth and track development. Achievements and results are difficult to demonstrate and justify without measurable, data-driven indicators. Our team assessment is crucial in this process. It measures and tracks team and leader performance, check it out! And, try assessing your own team.
8. Great leaders embrace discomfort. They openly and excitedly work through issues when there are conflicts around strategy or decisions. This openness and willingness to engage with discomfort is key for emerging leaders as well as those looking to level-up.
Embracing discomfort (rather than shutting down in moments of uncertainty) displays a willingness to learn and an appreciation for continued learning, growth, and development. THIS is what you want to continually demonstrate as an emerging leader. Such comfortability with discomfort positions you as a role model for your team members–encouraging them to be equally open to exploring and accepting discomfort.
Whether you're a long-time leader or an emerging leader, strive to be a great one!